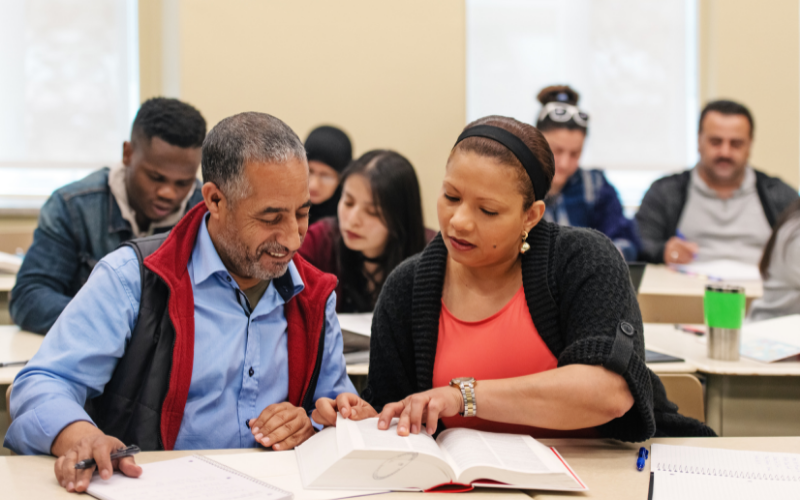 RISE Above Barriers: Creating Paths to Possibilities
ProjectRISE – Reach, Inspire, Sustain, Empower
Every single day, hundreds of people come through The Sharing Center's campus to receive services. Our plaza has quickly become a one-stop shop for each family and individual's needs. It is The Sharing Center's mission to help those experiencing poverty receive compassionate care. 
Our team works to provide emergency financial assistance, groceries, clothes, showers, and other essential resources. We address immediate needs, as well as provide extended support through programs that lead individuals and families toward a better future and long-term stability. We are more than just a singular resource for those facing difficult circumstances. 
As The Sharing Center expands to become the most comprehensive social services hub in Seminole County, we have grown in departments, land, space, staff and programs. 
Construction is underway for the new 3,600 square foot space of the Oasis. As we prepare for the official grand re-opening, we are also preparing for our newest program, ProjectRISE, to officially launch. This life-changing program has been developed to create pathways to possibilities. It will empower participants to RISE – Reach – Inspire – Sustain – Empower – over their barriers.
ProjectRISE will provide workforce development to those in our community who are currently unemployed, underemployed, or experiencing homelessness. The Sharing Center will provide the additional wrap-around services: transitional housing, life skills, mental health counseling, voluntary income tax assistance, and legal counseling.
Meet The Team
Along with the preparation of our growth, we are excited to introduce ProjectRISE's newest team members. Tiffany Rozier, ProjectRISE Education Coordinator, and Keisha Thomas, ProjectRISE Manager. 
ProjectRISE Manager, Keisha Thomas has been in the social work industry for 24 years. Covering an array of professions, including conditional release, mental health services, and most recently- working alongside those who are experiencing homelessness. 
When posed with the question, "What are you most excited for in the launch of ProjectRISE?" Thomas quickly responded with, "I am excited to just be a part of the process. The victories, the challenges, everything the participants will face. From start to finish, I am looking forward to standing alongside each and every person through this transitional process."
ProjectRISE Education Coordinator, Tiffany Rozier shared her excitement for how this incredible program will help those participating rise above their barriers. "We are able to meet new faces, and give them a resource that is not in the community right now. Being able to engage and identify the barriers each individual is facing will truly help us, to help them. If we have 18 people in a room, they may need 18 different things. Being able to identify and help provide a solution to each person is life changing. Connecting them to employment and being able to follow their success for at least two years- that is victorious."
Deborah Del Moral, Senior Programs Manager is working to continue to develop the ProjectRISE curriculum. Both Tiffany and Keisha will continue to build relationships with potential employers, and seek participants for this new program. Each person will have an opportunity- a chance to change the way they see life, the way they see themselves, and the way they see their future. 
The Sharing Center staff is ecstatic to see how this program will go above and beyond basic needs for each person, but instead provide a life-changing perspective. If you or someone you know is interested in this new program, fill out the interest form here.